Discussion Starter
•
#1
•
Most of us know about the analog clock's trick of stopping its display, by having the clock hands point straight up after a while. (Well, most of us who haven't substituted a compass, or Sport Chrono, or something else for the analog clock.) I've read a post or two in which someone theorized that this is done to save the small draw on the battery that the clock consumes; this seems like a reasonable theory to me (especially given the 6,000-mile-per-year battery warranty requirement, and some other ways that Porsche expresses concern vis-a-vis battery usage).
In any case, I think this is a cute feature, and I often show folks new to the car its trick of spinning the hands to the correct time, once you open a door, or the liftgate, and so forth. That is, as I mentioned, after the car has been unused for a while. The question that's been nagging at me for two years now -- and I'm sure that most of you were wondering this, as well -- is exactly what time interval constitutes "a while."
Spoiler alert: if you want to make a guess, do so now, without any more scrolling, because I reveal the answer below.
...
...
...
Well, I finally got around to determining that idle interval, the one that results in the clock's hibernation.
This morning, I set my GoPro on a mission to watch the clock. Here's the setup: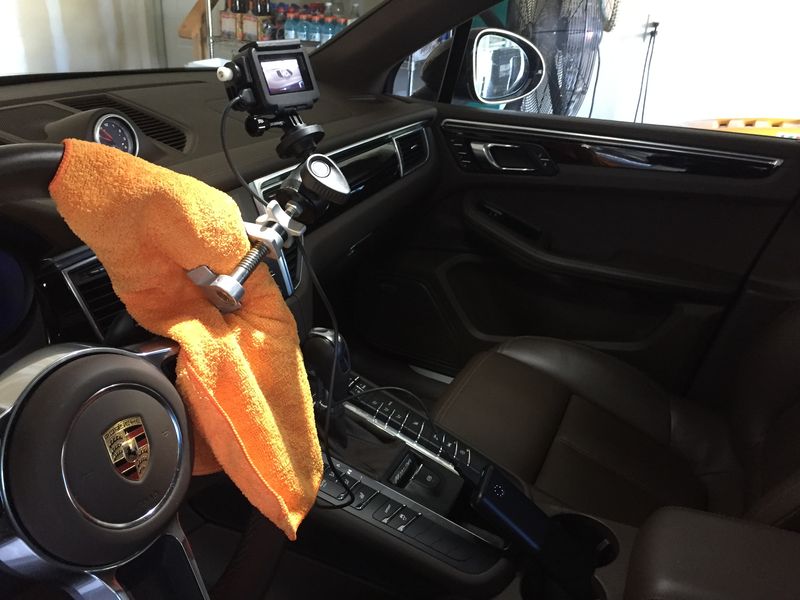 And after uploading the video chunks to my Mac, combining them, and adding a timer, I knew the answer to that question.
After that determination, I opened and closed the car door again, started a stopwatch with the closing of the door, did other things, and then strolled back in the garage with about a minute to go, eyeing the clock from outside. And sure enough, at the appointed interval, to the second, the clock struck noon (so to speak) again. Thus, my work was repeatable.
(I cannot, however, guarantee that the Macan's software doesn't also, or instead, use some other mechanism in its decision-making. For instance, it's certainly theoretically possible that the software checks for a miniscule drop in battery voltage, and reaching that point then resets the clock. Thus, if some criterion other than a simple time interval is used, then I haven't provided the true answer, but I'll ignore that possibility for now -- you know, Occam's razor, and that sort of thing.)
Okay, here's the 38-second summary video (paste
vimeo.com/361392735
if it doesn't work in-line):
Note that the door closure can be heard at about the 0:04 mark. And the clock does its trick at about the 26:15 mark. So, we have a clock time-to-hibernate, to the nearest second, of 26 minutes and 11 seconds.
I know I can sleep easier tonight, finally knowing that information. You?