Report on Thermal Glass Replacement, Including PEC Sticker
I started a thread here a few weeks ago, asking about experiences regarding replacement of the PEC sticker with a windshield replacement:
https://www.macanforum.com/forum/appearance-body/166624-pec-sticker-movable-new-windshield.html
. In that thread, in addition to helpful suggestions and past experiences of @
Jfling
and @
Jellybean
, @
rcdancer
and possibly some others wanted to know the outcome.
Additionally, there have been some threads here on glass replacement, in general, and reports of bad experiences. See, for instance,
https://www.macanforum.com/forum/appearance-body/164026-crack-windshield-can-fixed.html
and
https://www.macanforum.com/forum/appearance-body/164636-all-started-cracked-windshield.html
.
(If you want to seek out some more, I usually find it easiest just to bypass forum internal search mechanisms, and instead enter something like this into a Google search box:
windshield replacement inurl:macanforum.com
or
safelite windshield inurl:macanforum.com
.)
So, here's the report.
Friday, Aug. 24, my wife pointed out in the evening that sometime during the day she noticed a crack in the windshield, probably the result of a truck's spewing some stuff earlier in the day (although she didn't notice it at the time). Here's what the crack looked like: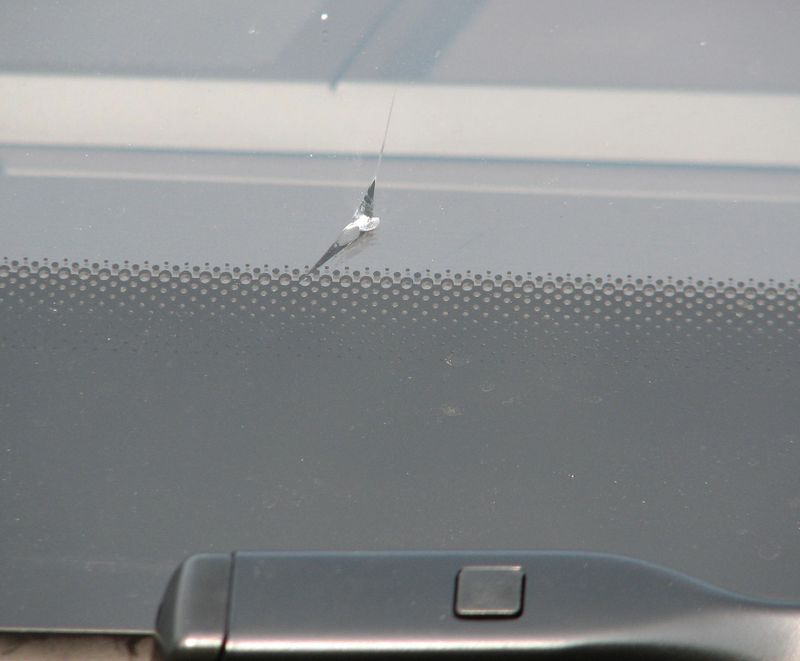 That's near the center of the windshield, with about an inch of damage on either side of the "bullseye," with a finer crack on the top. That top crack would, in the ensuing two weeks, grow to about a foot, and much more noticeable.
The following Monday, I started working on a claim.
Just to get my ducks in a row, get whatever background info and useful tidbits that I could, I first called my sole local Porsche dealer (from whom I did
not
buy the car, by the way),
https://www.porschecliftonpark.com/
. The guy at the service dept. there told me that they don't do any glass repairs, but instead send all of that work to Capitaland Glass (
https://www.capitalandglass.com/
), and have full confidence in them, etc.
So I called Capitaland, to see when they could take a look at it. I was still collecting info. The rep there thought what I described would require a new windshield. So I emailed him some pics (including some with a cloth tape measure alongside the crack), and he got back to me, stating that I would definitely require a new windshield:
Due to the location of the chip and the large impact point we feel that your windshield should be replaced. A ship positioned low on the glass makes it very challenging to get behind the chip to induce the resin to track into the cracks. Also, even after repairing this chip it is likely that it will be very noticeable due to its size.
Further:
You should be able to report this to Safeco, let them know that you want a Porsche brand windshield, and also notify them that you are requesting that Capitaland Glass be the shop to replace it for you. Safeco will e-mail a work order to me that has all of the billing details spelled out. I would be glad to walk you through this process, before you call them, some time tomorrow morning.
That evening, I called the national claim number for Safeco, my insurer. After some automated menu prompts, choices, and recordings, I was transferred out of Safeco, it noted, to Safelite Solutions; this would not have been the case, the recordings assured me, if I had pressed "2," yes there was personal injury or other damage involved.
Anyway, once at Safelite Solutions, I spoke to an actual human, and described the situation. I explained that this was a fancy car, with assorted sensors (see at least one of those other threads, in which sensor wires were butchered), and with expensive optional thermal glass ("VW5 Thermally & Noise Insulated Glass," $990 extra when we configured our S in Aug. 2017). And so I told him that I would only accept Porsche's glass, and installed at a location of my choosing.
Safelite Solutions, I gather, besides being Safeco's glass-related sub-contractor, is the parent company (or something akin to that) of Safelite, the actual glass-replacement company. I didn't want that, and I was pleasantly surprised that the rep promptly agreed with all of that, and assured me I would be getting "OEM" (his phrase) glass.
I said that I wanted to use Capitaland Glass, and he said fine, and that they were on Safelite Solutions list of preferred shops (or some term like that), and so their repair work would be guaranteed for life (my life? the car's life? not sure). And he had their email, and emailed them a work order authorization.
So, the next morning, I called Capitaland Glass, and they had the email from Safelite Solutions, i.e., I hadn't needed any help with the process. All Capitaland needed from me now, to order the windshield, was my VIN. So I gave them that, and he said he'd order it that day.
I have no idea where the glass was coming from, e.g., Germany, the U.S. somewhere, who knows. Anyway, Friday, Sept. 7 -- which is ten days later, if you're keeping score at home -- I got an email from Capitaland that the windshield was delivered to the local Porsche dealer. Apparently, real Porsche stuff first gets delivered to real Porsche dealers; I may be wrong, or it may just be with regard to windshields, but that's what I gathered in this case.
Capitaland said that they would pick it up, and could schedule me for the following Thursday (Sept. 13). So, about two and a half weeks, from claim to repair.
We dropped off the car late that morning, and picked up late that afternoon. Here's the work order I signed at pick-up time, if anyone's interested: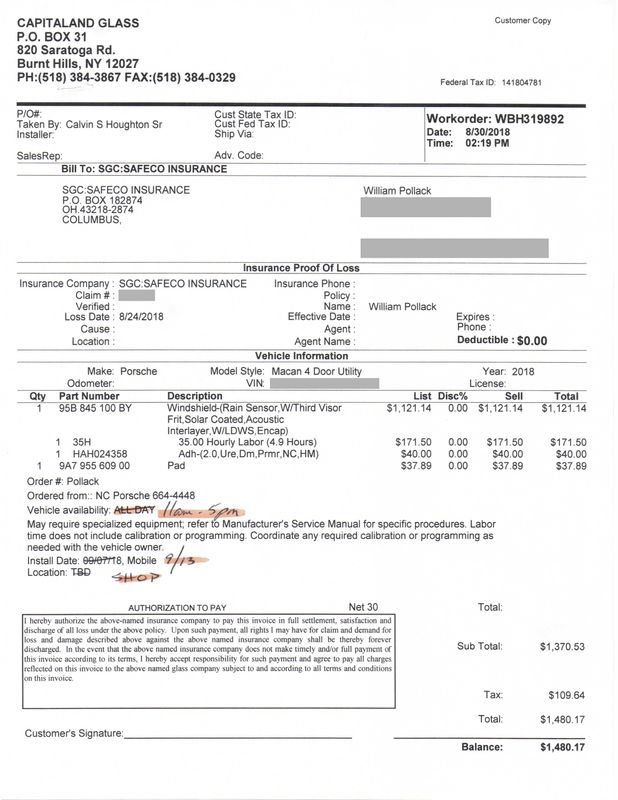 It shows a list price of $,1121.14 for part number 95B 845 100 BY, for "Windshield-(Rain Sensor, W/Third Visor Frit, Solar Coated, Acoustic Interlayer, W/LDWS, Encap)."
(By the way, I don't know of any optional sensors we have -- just the expensive glass. That is, we have the stock rain-sensing wipers, but that's it.)
All the work seemed perfect. No smells, completely uniform seams, no glop anywhere, and nice and quiet. And all the stickers were transferred: PEC, NY registration, NY inspection, (911 owners, close your eyes now) an all-you-can-eat monthly car-wash sticker, and the 3M Dual-Locks and the E-ZPass attached to them.
The PEC sticker seems to have some alternating bands of light and dark, maybe trapped air, that I'm not sure were there before, but it's okay with me; at least it's intact. Here's what it looks like now, along with the manufacturer data etched into the glass (that's a white napkin on the dash, in order to see the etching):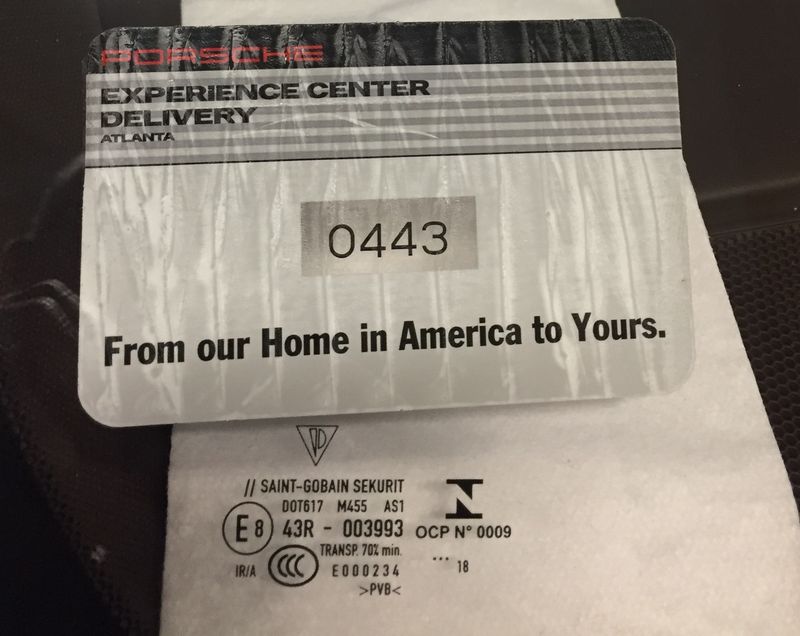 One last note about sound. While we were waiting for the replacement glass to arrive, I spent $15 on a sound meter at Amazon:
www.amazon.com/gp/product/B00ECCZWWI/
. My intention was to measure the interior sound on a given stretch of road at 70mph before and after. I mounted the meter with a suction cup to that shiny plastic just below the edge of the top of the dash, and went for a ride.
Well, there was traffic, and I had to take off the cruise, and there are just too many variables. And the phone recording was messed up, so the meter readings didn't show, and ... So that project was a failure. (And, yep, I'm a little OCD, but now I own my first sound meter, so maybe it will come in handy sometime.) But from having ridden in the car for almost a year, and around 16,000 miles, I can say unequivocally that it certainly
seems
as quiet as before, to my wife and me.
Last, for anyone in upstate NY, I can recommend, without reservation, Capitaland Glass. You can see on their home page that they note that they "INSTALL HIGH-END AUTOMOBILE GLASS," and they seemed to have done an excellent job of it.
Oops, one other thing: insurance could be discussed ad nauseam, but for what it's worth, Safeco (the insurance company, not Safelite) was a pleasure to work with. Well, it's never a pleasure, but I wasn't hassled at all with respect to my requirements, and it was a pretty quick discussion, at the conclusion of which they emailed the authorization to Capitaland. I have policies for both cars, the house, a motorcycle, and an umbrella with them, so I suppose it's the least they could do for me.
That's all I got.