Discussion Starter
·
#1
·
Hi everyone, spent about 9 months here on the forums (mostly lurking), but happy to say that my 21 GTS has FINALLY arrived!
Back Story: I'm a Porsche Fanatic and already have a '15 Cayman GTS which is my pride and joy. About 12 months ago I started looking for a new daily drive, budget varied depending on the day 😂 but went from:
"Be sensible - it's a daily drive - spend $30k"
to
"You need to enjoy your every day drive - spend $60k"
to
"YOLO get what you want, you work hard enough - spend $100k"
So I spent 6-months or so scouring Carsales, and was very close at the start of the pandemic to picking up a near-new VW Tiguan. Unfortunately (or rather... fortunately) they were in limited supply and priced too high for what they were (imho).
The Macan was always in my 'list' but more because I'm a Porsche fan, and I was looking at 2016-2018 models with CPO but in my head the little voices were having quite loud arguments about the fact that "You don't need two Porsches".
Anyway, around July I got to a stage where I said "F-IT, I'm going to get a new car, used car prices have gone wild, why not" and about that same time my wife 'made me' stop in and check out a Volcano Grey CPO in our local dealership... Yes I do love her she is amazing 😊. It was a nice spec however it was a little pricey and it didn't have heated seats (which was a deal breaker for me)... so a quick step into the showroom, a cold-start of the 2020 GTS on the floor, and a week later we were test driving and signing the papers (early August).
Being the sensible man I am (having just spent 5x my initial daily-driver budget 🤣), and not being in any hurry (at the time... 🙄) I decided I would wait for a 2021 Build Date (as opposed to picking up a new car near Christmas Time ... seemed like a good idea at the time... and so begun 9-months of waiting.
The first 4 months were actually OK (August - December)
Then in month 5 my build was completed (January)
And the months from January to now have been the longest ever! 😂 Particularly the last month of tracking the ship, and then seeing it sit outside of port for 14-days (no-known-reason)!
Anyway, not to bore you all too much, on Friday evening I picked up my new baby. Managed to scrape in as the last delivery before a snap 3-day lockdown (and long weekend) - so I was very lucky!
I've now spent three days cleaning, decontaminating and protecting the car, so here are some happy snaps.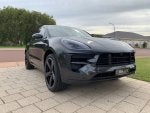 Initial driving reviews coming soon