Discussion Starter
·
#1
·
There was so much potential on 22 macan ambient light but looks like Porsche didnt even care about it. The footwell lights are pathetic so dim and so are the led strips on door panel .
I wanted to increase the brightness for footwell lights and change entire interior ambient lights to blue.
Just wanted to share my DIY upgrades :
1. Film on reflectors
2. Puddle projector lights
3. 6 led lights for foot well lights front , back and trunk. They come in blue but I bought all white as wanted to match with ambient light in case my entire blue upgrade didnt work and also using the film will make entire color in single blue shade.
4. Blue tint on all ambient light:
Front back footwell lights
Door projector pin lights
Door led strip
Footwell lamps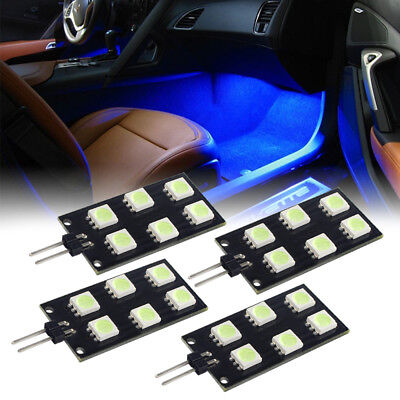 4X Error Free F&R Blue Footwell Lights 6SMD LED For Audi A4 S4 B8 2008-2015.
Tint:
DIYAH 12 X 48 Inches Self Adhesive Headlight, Tail Lights, Fog Lights Tint Vinyl Film (Dark Blue)
https://www.amazon.com/dp/B01N0Z58OH/ref=cm_sw_r_awdo_S9A7JE1PZZKJB8RXM0CB
Puddle lights:
Pimp My EV has the best electric vehicle (EV) accessories and mods. We offer electric vehicle accessories for EV brands like Tesla, Audi, BMW, and Volkswagen.
pimpmyev.com
I also tried tinting the dome light, but because of the curve at edge i saw some bubbles/ minute fold in the corner and couldnt stand it with my ocd . Will try this later when im bored
Fyi, rear footwell lights are ridiculous difficult to remove and reinstall as there is no extra wire for you to pull it out, take your time and should be ok.
Took the pics in night mode. So this might not be as bright as it looks in pics ( atleast 80% bright in person)
Removed the footwell lamp, replaced with 6 led and installed blue tint.
This is how it looks before tint.