Junior Member
Join Date: Mar 2017
Location: Chicagoland
Posts: 18
Mentioned: 0 Post(s)
Tagged: 0 Thread(s)
Quoted: 1 Post(s)
Grabbed Macan Turbo
---
Been on the lookout for a heavy optioned previously owned Macan Turbo, but pickings are slim; with most being in Florida or California. The Macan is still relatively new, so low milaged ones are not in the market place yet. Leased trade-in are not in the market yet and won't be til mid year. But then, this one popped up and it was local. The Macan had the exact color combination we wanted: white with two toned garnet red/black full leather interior. After seeing the bordeaux red/black on a 991.2; OMG moment, this was our primary choice.
The Macan was 2.5yrs old with 10,700 miles on it. The previous owner was a middle aged woman who took exceptional care of it. No signs of wear interior or exterior. For a 10k miles car, it already has received 3 oil changes in the service records. The dealership is a major one in the Chicago market and is known for aggressive pricing at around kbb trade in. I even got an unexpected bonus, the pricing also included a set of Porsche turbo wheels/Pirelli Scorpion winter tire with 10/32 tread still on them. I think they overlooked the winter wheel set in their pricing.
Naturally the car went through their complete used car inspection and the Macan is still under Porsche warranty. Since I purchased the car way under market value, i swung for an additional 6yr extended warranty. They even offered me 2.55% loan rate. I did not hesitate and grabbed it on the spot. When I picked up the car, the dealer confided they had multiple inquiries within hours after I put down the down payment.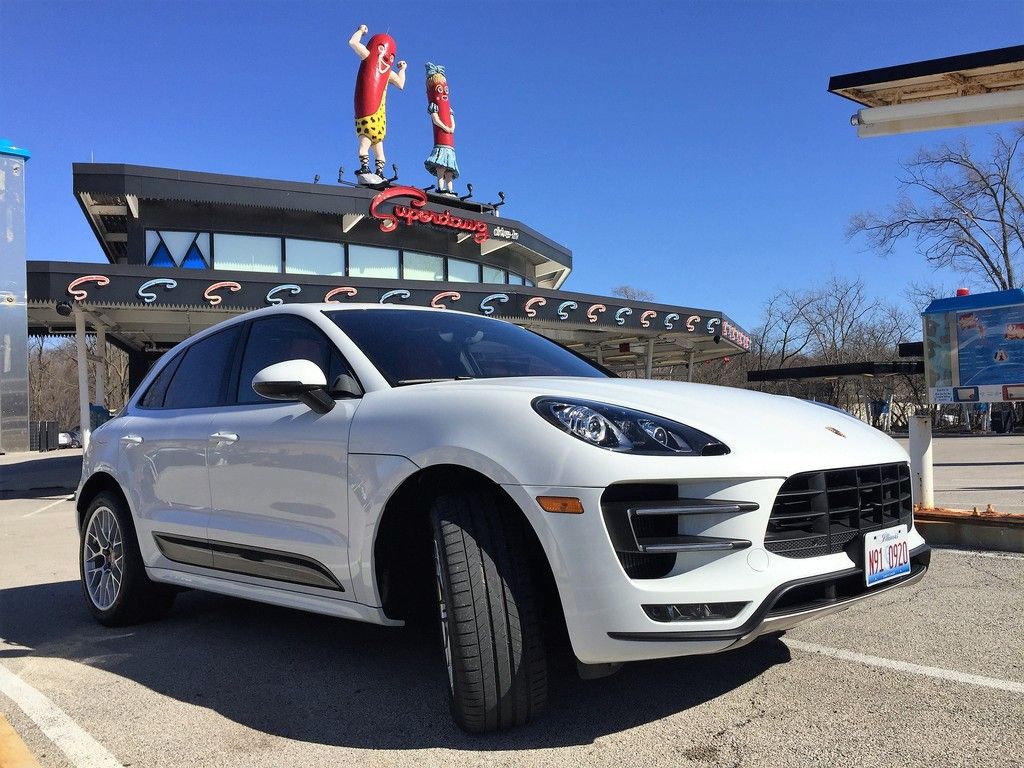 H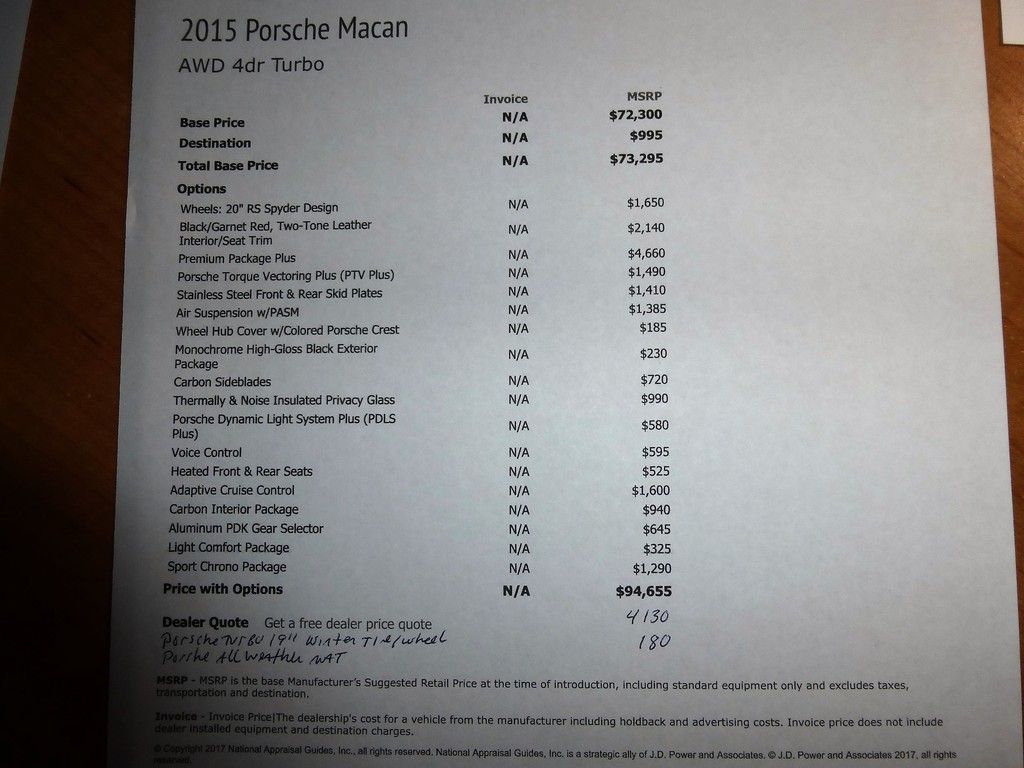 Had a few nice days to cruise around; but we back into wintery weather. The Macan is parked in the drive as we had the dealer swap wheels and thus the Macan has the summer tires on.
Junior Member
Join Date: Feb 2017
Location: San Jose, California
Posts: 19
Mentioned: 1 Post(s)
Tagged: 0 Thread(s)
Quoted: 6 Post(s)
---
Very nice!
---
Current:
2017 Porsche Macan 2.0 | Rhodium Silver | H&R | Chipwerke Pro
Past:
2014 Audi Allroad | APR E85 Stage 2 | Milltek | KW | Vossen
2011 Audi A3 | APR Stage 2 | KW
2007 Audi RS4 | Bone Stock
2006 Porsche Cayman S | KW | Remus | Sportec | Techart
Senior Member
Join Date: Jun 2014
Location: New Jersey
Posts: 1,851
Mentioned: 103 Post(s)
Tagged: 1 Thread(s)
Quoted: 765 Post(s)
---
Nicely optioned car. Care to share what they were asking and what you paid?
---
'16 Turbo,Sapphire,Black Leather Int/Sport Classics/Window Trim/Roof Rails/Xenons, PDLS+,Tinted Tailights,Sport Design,PSE/PTV/AS/SC/ACC,Burmester,Prem/Comfort Lighting Packages,Leather Dashboard Trim,Seat Console,Steering Column,Rear View Mirror and Sun Visors, Leather Interior Trim in Pebble, Pebble Seatbelts, Headrest Crests, Armrest Logo, White Dials/SC Clock, Alum Fuel Cap, Spt Design Mirrors, Surround, Connect/Online Services,Painted Key,Leather Keypouch,Illum Door Sills
Senior Member
Join Date: Aug 2016
Posts: 568
Mentioned: 12 Post(s)
Tagged: 0 Thread(s)
Quoted: 189 Post(s)
---
Nice looking ride for sure, even the Superdawgs are excited!
Senior Member
Join Date: Jan 2017
Posts: 107
Mentioned: 0 Post(s)
Tagged: 0 Thread(s)
Quoted: 52 Post(s)
---
Very nice. I like the all-silver RS wheels; I don't see that often. Congrats!
Senior Member
Join Date: Jul 2016
Location: TN
Posts: 214
Mentioned: 8 Post(s)
Tagged: 0 Thread(s)
Quoted: 70 Post(s)
---
Great find/build!
---
2017 Macan GTS Delivered 4/14/17: Jet Black Metallic//Black-Garnet Full PCode: PHMAWZS6
Senior Member
Join Date: Nov 2016
Location: Atlanta
Posts: 559
Mentioned: 11 Post(s)
Tagged: 0 Thread(s)
Quoted: 183 Post(s)
---
The best combo! At least IMO. Also, love Superdawg.
---
2017 GTS White/Red ordered 22 Nov 2016 /PEC ATL delivery number 223 on March 7, 2017
Senior Member
Join Date: Apr 2014
Location: Florida
Posts: 357
Mentioned: 19 Post(s)
Tagged: 0 Thread(s)
Quoted: 153 Post(s)
---
I didn't know the rs spyders were available in silver. Those look great!
---
2015 Macan Turbo - Dark Blue Metallic - Leather Package in Agate Grey - 21" Sport Classic Wheels with Summer Tires - Wheel Center Caps with Colored Porsche Crest - Sport Chrono Package - Porsche Torque Vectoring Plus - Stainless Steel Skid Plates - Roof Rails in Aluminum Finish - ParkAssist incl. Reversing Camera - 3-zone Climate Control - Premium Package Plus

1997 993 Carrera Cabriolet - Black - Cashmere Leather - 6 speed manual
Senior Member
Join Date: Jan 2016
Location: Northeast Florida, USA
Posts: 527
Mentioned: 22 Post(s)
Tagged: 0 Thread(s)
Quoted: 123 Post(s)
---
Wow, that's a well optioned car! Congrats & best wishes for many happy, healthy miles with it!
---
2016 Macan Turbo in Dark Blue Metallic.
2016 Boxster GTS Carmine Red
2008 911 Turbo Cabriolet Speed Yellow
2016 Ford F-150 Limited
2017 Porsche GT3-RS Lava Orange (LEGO)
To view links or images in signatures your post count must be 10 or greater. You currently have 0 posts.

Senior Member
Join Date: Jan 2017
Location: New Orleans, LA
Posts: 123
Mentioned: 2 Post(s)
Tagged: 0 Thread(s)
Quoted: 55 Post(s)
---
So very similar to my Macan Turbo I purchased this January. 2015 model year, 11,000 miles, mid-aged lady owned (the car felt still tight, as if never driven hard, wife of one of the dealerships best customers $$$.) CPO with a warranty to 2021. List at $95,000, I paid $30,000 less, mint condition as new, silver with black interior and the silver RS wheels as you have. I paid 4.0% financing.
Posting Rules

You may not post new threads

You may not post replies

You may not post attachments

You may not edit your posts

---

HTML code is Off

---